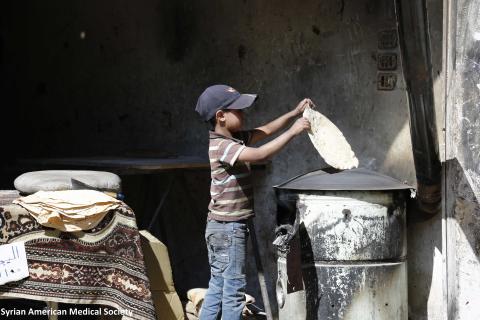 November 1st, 2017 (Washington, D.C.) -- Over the past weeks, reports have emerged detailing the tragic situation in the besieged Damascus suburb of Eastern Ghouta, with images of emaciated children and stories of starvation bringing to light the ongoing humanitarian catastrophe.  Members of the American Relief Coalition for Syria have expressed frustration and grave concern with the lack of humanitarian access for civilians trapped in Eastern Ghouta, which has been under a stifling siege for the past four years. ARCS members call upon the international community to coordinate with all parties in the area to ensure that food, medicine, and other necessities are allowed into all communities in the besieged area, and that critically ill residents be granted immediate medical evacuation.
Until recently, a small amount of supplies were able to cross into Eastern Ghouta through tunnels. With the closure of tunnels and all passages out of the area since February 2017, the situation has rapidly deteriorated. In April, UNICEF published a report stating that around a third of infants and young children were chronically malnourished. Since then the situation has only gotten worse.
The last UN convoy that was allowed into the area was on October 30, with aid only sufficient for 40,000 of the 350,000 besieged civilians. According to a report released last month by ARCS member, the Syrian American Medical Society (SAMS), food prices have skyrocketed over the past few months with the cost of bread being 1,150% higher in Eastern Ghouta than in Damascus.
In addition to large-scale food shortages, ARCS member organizations report vast medical challenges. According to SAMS, only 107 doctors remain in Eastern Ghouta to tend for a population stricken by hunger, malnutrition and aerial attacks. Their report also stated that over 13,000 children are in "dire need of medical care." Last week the UN High Commissioner for Human Rights, Zeid Ra'ad Al Hussein, put out a statement calling for unhindered humanitarian access.
"Just as food and medical supplies must be allowed in, sick and injured people must be allowed to access medical care whenever and wherever they need it. I remind all parties of their obligations under international human rights law and international humanitarian law to protect civilians at all times, and to care for the sick and wounded," the statement said.
ARCS members join the United Nation's call for immediate intervention. Together, we are urging all factions in and around Eastern Ghouta to allow humanitarian organizations and agencies unfettered access to bring food, medicine, and other relief into the area, and to grant medical evacuations to critically ill patients who cannot access care due to the shortage in medical supplies and equipment.
ARCS is always willing to discuss the humanitarian and civilian impact of local, national, and international policies with American and international officials and other decision makers. With our member organizations' staff located across Syria, ARCS is ready to offer insights regarding the humanitarian costs and consequences of policies.
Please send media and other requests to info(at)arcsyria.org