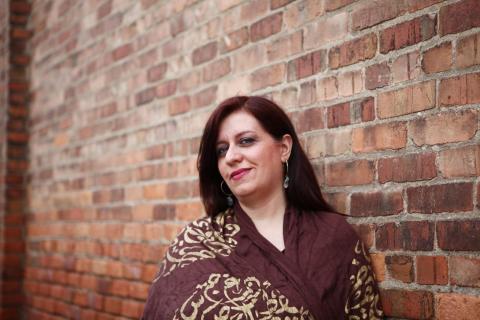 Nada Odeh is among the 7,000 Syrian Temporary Protected Status (TPS) holders living in the United States. Nada is a well-known art educator, visual artist and museum curator. She works with folklore societies, refugee communities, and museum associations all over the country, using art to tell stories, connect people, and heal trauma.
Nada believes, "Syrians are a beautiful mosaic. We are a diverse group of people with different strengths, education levels, religions, and cultures. But with all of our differences, we all share the same desires: safety, health and freedom."  
A philanthropist at heart, Nada was committed to helping people while she lived in Syria. As the war broke out in 2011, Nada witnessed the quick deterioration of the homes and lives around her. As a mother of two children, the idea of human suffering outside the walls of her home in Damascus kept her up at night. Nada's belief that despite their differences in political or religious backgrounds, "Syrians are all in the same boat." 
By 2012, Nada began working to provide charity to vulnerable communities, risking her life and her family's safety. Nada worked with a variety of non-governmental organizations (NGOs) and private entities to help feed thousands of Syrians who fled the war to live in refugee camps in Lebanon and Turkey. 
In Syria alone with a son and a daughter, things became more dangerous for her and her children, and it became difficult for them to survive. In June of 2013, Nada and her children visited her brother in San Diego to take a break from the war. But during her stay in the U.S., news from back home became even more bleak. Nada learned from her relatives that the Syrian government was looking for her, and that she was not welcomed back into Syria because of the volunteer work she had been doing. It left Nada and her children stranded in the U.S.
Nada learned about Temporary Protected Status (TPS) and quickly applied for her and her children. She was accepted, and soon after moved to Michigan. 
Nada, with other Syrians, established the Syrian American Rescue Network (SARN) in Michigan, which helps Syrian refugees resettle in their communities. In volunteering with SARN, Nada helped resettle approximately 2,000 Syrian refugees in Michigan and the surrounding states. Nada met refugees coming from some of the most desperate situations, go on to own businesses, support themselves and their families, and obtain green cards. 
Nada was eager to do more, so she applied for her master's through Jusoor, a scholarship program dedicated to supporting Syrians with their education in the United States. Nada was accepted to Syracuse University and received her master's degree in museum studies in 2018. 
Nada now incorporates her love for humanitarian work with her passion for art. In 2015 and 2017, Nada teamed up with a psychiatrist to design workshops in Detroit, Michigan and Syracuse, New York using art therapy to help improve and heal lives, specifically looking at healing the refugee populations. In 2018, Nada worked with the Near East Foundation's online museum to support refugees and displaced people.
Today, Nada and her daughter and son live in New York state. Earlier this year, Nada helped launch the first-ever Palestinian Museum in Washington, D.C. In the end of July, she will be launching her art exhibit in Detroit, Michigan. 
Nada is one example of the diverse group of Syrian TPS holders that depend on the renewal and re-designations of TPS. Much like a mosaic, each Syrian brings a unique set of skills to the U.S., which benefits the greater good of our society. As Americans, we have a responsibility to these Syrians to continue to provide them with protection, until it is safe for them to go back to their home countries.