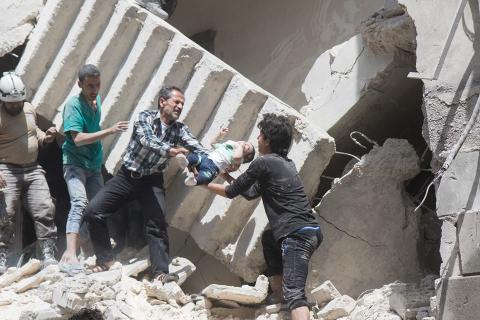 (Washington, D.C.) - Aleppo entered a new level of despair said a coalition of aid groups on Friday. Last night, over 50 air strikes hit the city and 91 casualties were reported, as the government launched its offensive campaign to retake rebel-held areas. The American Relief Coalition for Syria (ARCS), a group of 13 American humanitarian organizations that helps over 5.6 million Syrians in the country and worldwide, are greatly concerned about the future of Aleppo's citizens.
"Thousands of us still remain in Aleppo and we live under the most unfathomable of conditions," said Farida, the last female doctor from Eastern Aleppo who works with the Syrian American Medical Society (SAMS), a member organization of ARCS. "Last night we watched as Aleppo was further devastated. Houses and buildings were burning, shelling and rockets rained from the sky, and there were so many lives lost. I am greatly concerned about the future of Aleppo, of my people and of our humanity. Our work saving lives becomes more and more difficult as each day passes."
As the US and Russia's brokered attempts at a ceasefire fails, the Syrian people are seeking support from world leaders. "The town of Rifat in Aleppo is under the gravest conditions we have ever witnessed since the beginning of the crisis. People there are asking us, 'who will save us from this hell?'" said Dr. Zaher Sahloul, founder and executive committee member of ARCS. "They tell us that they once looked to the United States for its values in freedom, democracy and equality for all, but now they question where America stands. With the efforts like the Caesar bill we can get closer to restoring their hope. We don't want to be remembered as a nation that stood idle during the greatest humanitarian crisis of our lifetime."
The Caesar Syria Civilian Protection Act is a bipartisan bill that would bring accountability for human rights violations and provide critical protections for civilians and humanitarian aid efforts. The legislation was pulled from the legislative calendar in the House of Representatives earlier this week. Every day the bill is delayed, is another delay means more suffering in war-torn Syria.