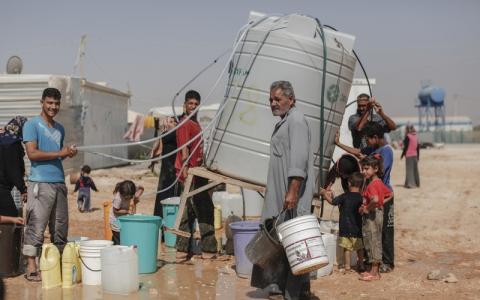 (Washington, D.C.) - According to news reports, the bipartisan Caesar Syria Civilian Protection Act has been pulled from the legislative calendar in the House of Representatives, where it was expected to pass easily. Lena Arkawi, spokesperson for the American Relief Coalition for Syria (ARCS), a coalition of 13 Syrian American humanitarian organizations that provide aid inside of Syria, issued the following statement in response:
"We are deeply concerned by reports that the Caesar Syria Civilian Protection Act is being delayed in Congress. With each new day, we see why this legislation is desperately needed. There are flagrant violations of the brokered ceasefire and continued relentless and indiscriminate attacks on civilians — including an attack on a UN aid convoy.
"ARCS member organizations are working directly on the ground in Syria. Many of their doctors, aid workers, and volunteers put their lives on the line every day working in Aleppo and other besieged cities. Yet we continue to receive daily reports about deadly attacks on civilians and medical facilities, as well as disastrous shortages of food and medical supplies. These heinous acts cannot go unanswered.
"Based on our experience with the dire realities of the Syrian conflict, we strongly support the Caesar Syria Civilian Protection Act. This legislation would bring accountability for human rights violations and provide critical protections for civilians and humanitarian aid efforts. We urge the President and Congress to come together in support of this critical legislation."