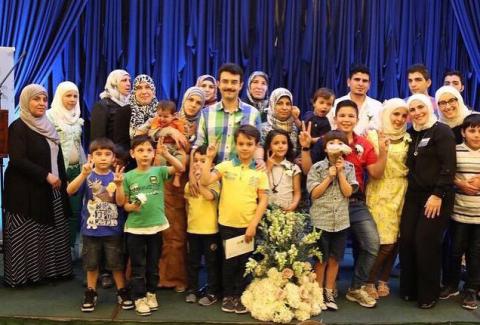 Washington, DC (Jan. 27, 2017)--The American Relief Coalition for Syria (ARCS) and its 13 member organizations join refugee rights and Syrian diaspora organizations in urging President Trump to reconsider an executive order that would bar thousands of displaced Syrians from seeking a safe, permanent home. The decision to halt resettlement would not only be detrimental to the safety and livelihoods of Syrians currently waiting to be resettled but also harmful to Syrian refugees who have already been resettled in the U.S. Such a policy is antithetical to American values and humanitarian principles and we urge the President and Congress to reconsider.
The legal process for gaining refugee status in the U.S. is lengthy and arduous with rigorous security and background checks for each applicant. According to the Migration Policy Institute, only 18,000 Syrian refugees have been resettled in the United States since 2011, out of the nearly 4.8 million Syrian refugees worldwide. Nearly all resettled refugees have been families with women and children who are adapting in their new host cities and have been embraced by interfaith groups and community organizations.
Dr. Feras Shawish, his wife Rehab and their young son arrived in the U.S. in September 2015. After his release from a prison in Syria, where he was unjustly detained and tortured for a year, Dr. Shawish and his family fled to Turkey and registered with UNHCR. After a lengthy vetting process, the family was resettled in Chicago. Dr. Shawish is studying to practice medicine in his new home country and Rehab is planning to pursue her former career as an engineer.
Suzanne Sahloul, of the Syrian Community Network, a member of ARCS, said that "the executive order of President Trump is unfair and will send the wrong message to the world. Refugees are fleeing oppression and terrorism and they want to start a new life in the land of freedom and opportunity." Her organization is assisting resettled Syrian refugees in Chicago, San Diego, Phoenix, and other cities. "Syrian refugees deserve our sympathy and support. They are assets to their communities, not a threat," she said.
The U.S. has historically been known for policies that welcome refugees and asylum-seekers. The resettlement program focuses on the most vulnerable refugees, including women and children, refugees with medical problems, and those who were subjected to violence or torture. We reiterate our call for the Administration to reconsider this action, and to move quickly in its review process to once again allow the program to operate