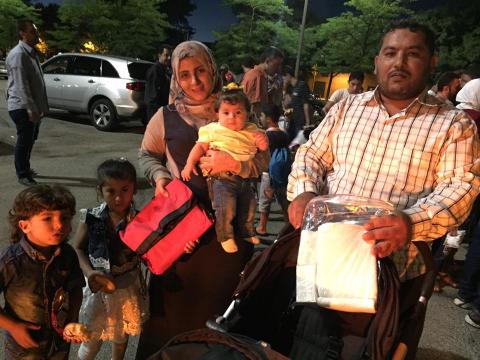 Washington, DC (March 8th, 2017) – On Tuesday, President Trump announced his new Executive Order on refugees and immigrants. The new Executive Order retains many of the central elements of the original order, including decreasing the number of refugees admitted to the United States each year from 110,000 to 50,000, the lowest number in 35 years. This will dramatically reduce the number of Syrian refugees who are able to resettle in the U.S.
The American Relief Coalition for Syria (ARCS) joins the many local and international organizations in voicing our disappointment and opposition to policies like this, which only serve to alienate those who seek shelter and protection in our country.
The Executive Order will also suspend the United States Refugee Admissions Programs (USRAP) for 120 days. The suspension of USRAP, even temporarily, will cause undue hardship to families who are waiting to start their new lives. This EO will not increase security in the US. Refugees already undergo months of vetting and security screenings. They are not a threat to our country; they are an asset. The Executive Order also suspends visa processing for 90 days for citizens of Syria, Somalia, Yemen, Libya, Sudan and Iran, adding to travel complications and the potential for ostracization of immigrants from those countries.
ARCS is always willing to discuss the humanitarian and civilian impact of local, national, and international policies with administration officials and other decision makers. With our member organizations located across the country, ARCS is ready to offer insights regarding the consequences of new policies and Executive Orders on local Syrian communities.