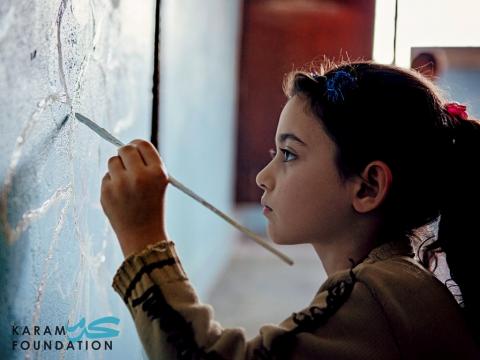 Karam Foundation is a non-profit organization dedicated to help people help themselves. We seek to restore the dignity and quality of life for people affected by conflict by eliminating barriers to success through innovative education, entrepreneurial development, and community-driven aid.
Karam Foundation was founded in 2007 with a mission to help others. Karam in Arabic means generosity. In 2011, the organization's focus shifted to Syria. Since the start of the uprisings, our mission has developed to serve refugees that are displaced as a result of the ongoing violence in Syria. Our organization provides humanitarian aid through different channels: Smart Aid, Sustainable Development, and Education.
Smart Aid is a simple concept -give people what they need. Our organization does not believe in blanket aid, rather we work to form long lasting relationships with the communities we support by asking a simple question: what do you need? This allows us to provide people with resources that allow them to live quality lives. We have a variety of Smart Aid projects, such as our Milk4Syria campaign. Over the years, this project has served to ensure communities inside of Syria with a stable and consistent supply of infant formula. Other ongoing Smart Aid projects include winter relief aid, and food distributions to communities inside Syria
Our Sustainable Development projects are a form of community driven aid, where our organization serves to facilitate opportunities for refugees and internally displaced persons to live dignified lives. One way our organization does this is through our Scents of Syria initiative. The Scents of Syria product line that is featured on our online store supports Ghar, a women's collective created to support internally displaced Syrian women inside Damascus. Our partnership with Ghar has allowed this small business to grow from supporting 20 women and their families to now 50 women in Damascus and 12 women in Turkey. The idea of Sustainable Development is to provide people with long term aid that will create a lasting impact.
As our organization grows, our focus remains the same: we are on a mission to build Syria's future. We believe this vision cannot be made possible without education. Our Innovative Education programs are designed to engage Syrian refugee children and youth, who have been out of school for years as a result of the ongoing violence in Syria. Our goal is to provide them with the resources and opportunities they need to succeed, things that as a result of war and displacement have been made inaccessible to them. Twice a year, our team travels to Reyhanli in southern Turkey with a team of mentors. For about a week, our team leads various workshops, including psychosocial therapy which allows us to connect with children and youth that communicate to us what they need in order to succeed.
In addition to our Innovative Education missions, we recently launched our Sponsor A Syrian Refugee Family campaign. This project is designed to support families who as a result of war and displacement are impoverished, and are forced to rely on the labor of their children to survive. The sponsorship provides Syrian refugee families with a monthly stipend so that their children do not have to work, and instead can enroll in school.
In the last five years, our organization has grown. However, the work we do is never finished, and we are constantly developing our programs to better serve the communities we've invested in to build a better future for Syria.