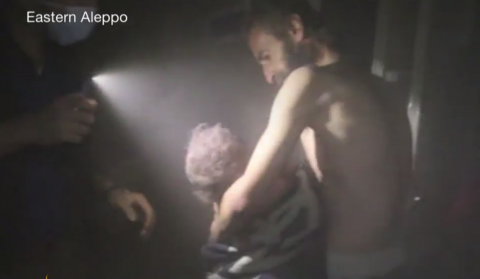 Bombardment of Aleppo Hospitals Leaves Civilians without Medical Care
(Washington, DC) – In recent days, eastern Aleppo has come under the most intense bombardment of the Syrian conflict. Escalated airstrikes by Russian and regime forces have reportedly killed over 100 civilians on the ground and destroyed critical remaining infrastructure in besieged, battle-scarred neighborhoods. All the hospitals in eastern Aleppo are now destroyed, leaving over 250,000 civilians without access to medical care.
Commenting on the attacks today, Dr. Omar, the last neurosurgeon in Aleppo stated:
"We no longer have hospitals to operate in. You can't imagine what it's like living in Aleppo right now. It feels like we are living in hell. Our neighborhoods are in flames, and bombs are raining down from the sky. We urgently call on the international community to send help and stop the slaughter of innocent civilians."
Hannai Qassab, President of the Syrian Women Organization in Aleppo stated:
"There have been countless casualties over the past four days, especially today. The ground is covered with blood, and the hospitals have been destroyed. We have nowhere to go if we get injured. People here are dying from hunger and the cold, and now the constant airstrikes. But we won't leave Aleppo. It's not safe, and there is nowhere to go. We ask for people around the world to help stop the bloodshed. You have the power, but you must act."