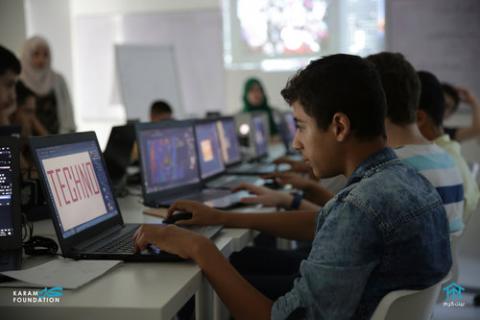 Washington D.C. -- On October 25th, Syrian-American organizations, and members of the American Relief Coalition for Syria (ARCS), were in the nation's capital,  advocating for robust educational access of Syrian children displaced within Syria and the surrounding region. A majority of ARCS members, including Karam Foundation, Mercy Without Limits, Shaam Relief Foundation, Syrian Forum USA, and Hope for Relief and Development, met with a bipartisan group of Congressional staffers and policymakers to highlight the crisis which, according to a report by Karam Foundation, has left 3.3 million Syrian children without access to primary and secondary education. According to ARCS members, mass displacement and its effects on education, is set to cause severe long-term disparity on the future of the nation's youth.
Noting the importance of the issue to the economic and social stability of the population, ARCS members have launched initiatives to provide assistance programs to those affected. In Turkey, Karam Foundation operates Karam House, an Innovation center that caters to the estimated 90% of urban Syrian refugees living outside refugee camps. Through the operation, refugee youths get access to mentors, interact with peers, and acquire training in S.T.E.M. (Science, Technology, Engineering and Math) courses that lead to careers in rapidly developing technological fields. The organization has also been looking to tackle the dismal one percent higher-education enrollment rate among college-age refugees through Karam Scholars, a scholarship program that provides gap year funding and tuition support to refugees in Turkey and Jordan.
Other member organizations like Mercy Without Limits and Syria Relief & Development have also launched their own initiatives. Mercy Without Limits provides subsidies to primary and secondary schools in various parts of Syria, and operates informal schools - where classes are held in basements of clothing shops and old businesses for the protection of students - in besieged areas such as Aleppo, Al-Ghouta and Idlib. Syria Relief & Development runs a skills-based training center in Idlib, where women and girls are offered courses in Cosmetology, computer literacy, sewing and language training. Outside of the coalition, No Lost Generation, a refugee education campaign launched by UNICEF, has been the prototype for strategy and awareness on the issue. The campaign has been adopted by organizations in 55 college campuses throughout United States, with students providing in-kind donations and educational materials to Syrian refugees living abroad.
ARCS Member organizations agree the issue is one that requires repeated advocacy to policymakers. Continuing the focus on the topic, the coalition will launch a spring 2018 education campaign, aiming to provide extra assistance and support for refugee youths in need of educational support. "Providing only humanitarian aid is like constantly giving someone a fish, but people need to learn how to fish." says Reem Sharaf of Mercy Without Limits, "Without education, people are going to be trapped in a cycle of disparity and disadvantage. Education gives refugees the opportunity to grow out of the cycle."
Looking towards the long term impact on refugees and their communities, the coalition is set to focus on developmental goals as well as humanitarian assistance in its approach to the Syrian crisis. An upcoming ARCS education initiative, and our advocacy to Congress on the issue, makes clear education is the most important indicator of the success and stability of Syria's next generation.