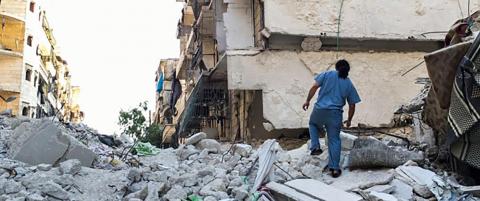 STATEMENT COMES AS CEASEFIRE EXPIRES IN ALEPPO PROMPTING FEARS FOR ACCESS TO HUMANITARIAN AID
Washington, DC. (May 17, 2016) – In the face of barrel bombs and constant attacks on civilians and emergency workers alike, member organizations of the American Relief Coalition for Syria (ARCS) have continue to provide lifesaving services to the residents of Aleppo. In 2015 alone, ARCS organizations supplied necessary assistance to over 389,000 Syrians in Aleppo and 4.7 million across Syria. ARCS member organizations are working around the clock to send relief to the affected areas; still many people are trapped without access to food or medical care.
Aleppo is suffering constant attacks; hospitals and medical facilities have been especially targeted in the past weeks. An airstrike destroyed Al Quds hospital, killing more than 50 civilians, including the last pediatrician in the city. The Dabbit maternity hospital was partially damaged by shells, killing three women and wounding seventeen, including children. This attack is the sixth assault on medical facility in the divided city of Aleppo in less than a week, but the first in government controlled territory. The other five attacks destroyed medical facilities in rebel held territory of Aleppo killing scores of civilians. ARCS condemns all attacks on medical facilities, no matter who commits them, and calls for immediate halt of these attacks, which qualify as war crimes.
Roughly 905,000 people are still living in besieged areas, including Aleppo, in constant fear and with almost no access to basic services. Currently, ARCS organizations maintain diverse services on the ground, despite challenges and threats, to reach affected places. While air strikes and barrel bombs continue to shake Aleppo, ARCS organizations work to provide medicine, protection, shelter, food, psychosocial support, WASH, education, and even development initiatives, to the people of Aleppo. The Syrian Forum, Swasia Charity Foundation, Rahma Relief Foundation, Hope for Syria, and Karam Foundation provide food to over 94,400 in Aleppo. Further, Syrian Forum has provided much needed protection for over 5,000 civilians. Syrian American Engineers Association provides technical expertise in Aleppo for reconstruction and infrastructure rebuilding, reaching at least 10,000 people this year. Medical and healthcare workers also face challenging situations.
"It is hard to describe what it is like to live in Aleppo, waiting for death," Dr. Abo Ezz, from the Syrian American Medical Society (SAMS) said in a recent op-ed. He reported that in Aleppo, there is only one doctor for every 10,000 residents. ARCS organizations continue to support hospitals and medical facilities and send medical aid to the most dangerous and hard-hit areas of Aleppo. Together, SAMS and Syria Relief and Development provide medical services to more than 15,000 people per month, at over a dozen locations across Aleppo.
Humanitarian aid organizations must be allowed to reach the people of Aleppo and Syria, unfettered by any party on the ground. Medical facilities must be protected and safeguarded, without fear of being targeted. ARCS is a coalition with strong on-the-ground connections and unique ability to accurately gauge the needs based on reports from member organizations and coordinate relief efforts effectively. No matter the political circumstances, ARCS organizations will continue to help millions of Syrians; those who remain in Aleppo, those across Syria, and those displaced as refugees.
----
ARCS was founded in 2013 by a group of Syrian-American relief organizations joining forces to form a coalition of aid groups dedicated to collectively providing Syrians with humanitarian assistance. ARCS is a coalition of non-political, Syrian diaspora led humanitarian organizations that provide multi-sector relief inside of Syria, as well as assistance and services to Syrian refugees in regional host countries and in the United States. By pooling the talents and expertise of hundreds of professionals, ARCS member organizations cover the full range of humanitarian sectors, including health, psychosocial support, community services, education, food and non-food items, protection, water/sanitation/hygiene, and women's empowerment. In addition to emergency relief, ARCS organizations have established development projects that promote sustainable living and lay the groundwork for voluntary refugee return, such as building schools, facilitating jobs and skills training, and helping to establish bakeries and flour mills.
---------------------------------------------------------------------------------------------------------------------