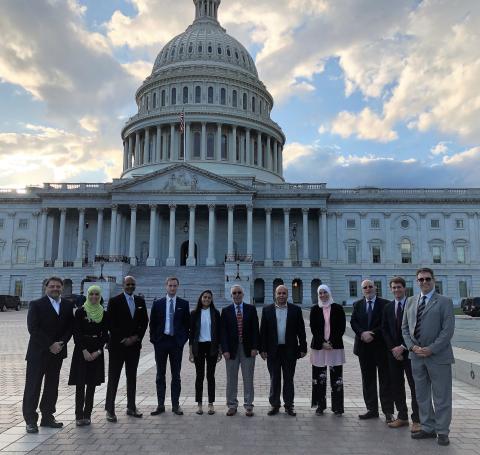 On October 25th, ARCS members from across the country came to Washington, D.C. to meet with their representatives and advocate on issues that have the most impact on their work. They spoke the importance and need for new approaches to education for Syrians and on the challenges and barriers that bank derisking imposes on their organizations.
After the over two dozen meetings with congressional and senate offices, the attendees themselves reported high-levels of engagement and requests for follow-up from the staffers. Anecdotally, we have heard from a few ARCS members on the personal and organizational accomplishments resulting from their meetings, including a potential commitment of a floor speech on the importance of education for Syrian—if there is "time in their schedule." The success of ARCS' first Annual Advocacy Day, is thanks in large part to the dedicated support of the Oxfam America staff.
The Syrian-American humanitarian community, which ARCS represents, were some of the first organizations delivering humanitarian aid on the ground and they will continue their live-saving work for many years to come. These voices need to be involved in policy discussions that impact their work and the future of Syria. ARCS members' connections and information from the ground is invaluable to policymakers, and they must be consulted for policymakers to truly understand the implications of their decisions. Based on the experiences of member organizations and the positive reception they were given on the Hill advocacy days seem poised to become annual traditions, if not more often.
ARCS, with the help of OA, has committed to support member organizations' advocacy efforts wherever and however we can. We will be working closely with our OA partners to offer member organizations a webinar series through which they will become experts in different methods of local and national advocacy.