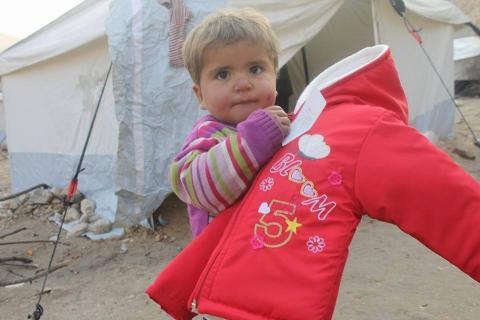 The family is sitting around the dinner table, the tree is about to be decorated, and the U.S. is officially entering holiday season. Sadly, for Syrian refugees around the world, this season does not bring such excitment. The winter weather presents a special challenge to displaced refugees living in surrounding countries. Frigid winds, tumultuous rain, and precipitating snow hit the refugee camps in countries such as Lebanon and Jordan, increasing the chance of illness and death. In 2015, the New York Times reported three Syrian, including a child, were found dead in southern Lebanon after getting caught in a storm. A previous snowstorm in the country was also responsible for the death of two Syrian refugee children.
It is estimated close to 6.7 million people have been internally displaced, with an additional 4.9 million Syrian refugees seeking asylum in other countries. From this massive number, only a miniscule 12% reside in refugee camps in neighboring areas. That leaves a large amount of refugees outside the reach of international aid, leaving them susceptible to insecure shelters and cold temperatures without available heating. Newsweek reports while the world was celebrating New Years' in 2016, Syrian refugees in Lebanon were dealing with the consequences of snowstorm Vladimir in the Bekaa Valley. The storm cut off power for more than 370,000 Syrian refugees, isolating them from mountain roads and diminishing their food supply.
            In addition to heating concerns, housing remains at risk as many refugees might see their tents being destroyed or damaged from persistent storms. ARCS and our member organizations remain concerned about winter challenges presented to Syrian refugees in insecure situations. To assist the plight of refugees in these areas, some of our member organizations have launched a campaign to provide much needed winter kits. NuDay, Karam Foundation, Hope for Syria, Rahma Relief Foundation, Syria Relief & Development and Shaam Relief Foundation are all assembling kits that would include a blanket, thermal underwear, outerwear, socks, mittens and much more. Each kit would be distributed to Syrian refugees in refugee camps and shelter communities. By contributing to any of the campaigns below, individuals can purchase a kit to provide warmth for a Syrian refugee. Our donors could also choose a campaign that provides a kit for an entire Syrian refugee family.
As we gather with our families and loved ones during Thanksgiving, we hope to see the familial spirit extended to those who are most at need. Donations to these programs will help ensure refugee children are kept warm and comfortable in cold days ahead. Check out the different campaigns below!
NuDay Syria
To provide Coats and Food produced locally to Syrian women and children refugees. 
Syria Relief and Development
To distribute cost effective products based on a family's individual needs: Kit will include foam mattress; a hygiene kit filled with soap, shampoo, toothpaste, detergent and towels; a rug; two blankets; winter clothing for children, including thermal pajamas, sweaters and jackets; and a food basket.
Check out the #GiveWarmth Campaign!
Rahma Relief Foundation
Distribute winter kits to Syrian children in refugee camps located in Lebanon, Jordan and Syria. Each kit includes blanket, glove, hat and a jacket.
Donate to Rahma Winter Kits Here!
Karam Foundation
Through a collaboration with Students for Syria, Karam is working to make winter packages available for Syrian refugees. Donation of $20 can keep one child warm.
Do You Dare For Syria? Click this link to find out!
Shaam Relief Foundation
Shaam Relief Foundation is collecting clothes to help protect Syrian refugees from the bitter cold this winter.
Winter Is Coming: Winter Drive
Hope for Syria
To help the homeless and refugees this winter season, Hope for Syria is collecting blankets, thermal underwear, outerwear, socks, and mittens.
Happy Thanksgiving! - ARCS